Is your bathtub looking shabby? Instead of replacing it without a second thought, why not consider refinishing it? Whether you're after a brand new look in a hotel, hospital or home bathroom, a literal fresh coating can make all the difference – and save you a lot of money!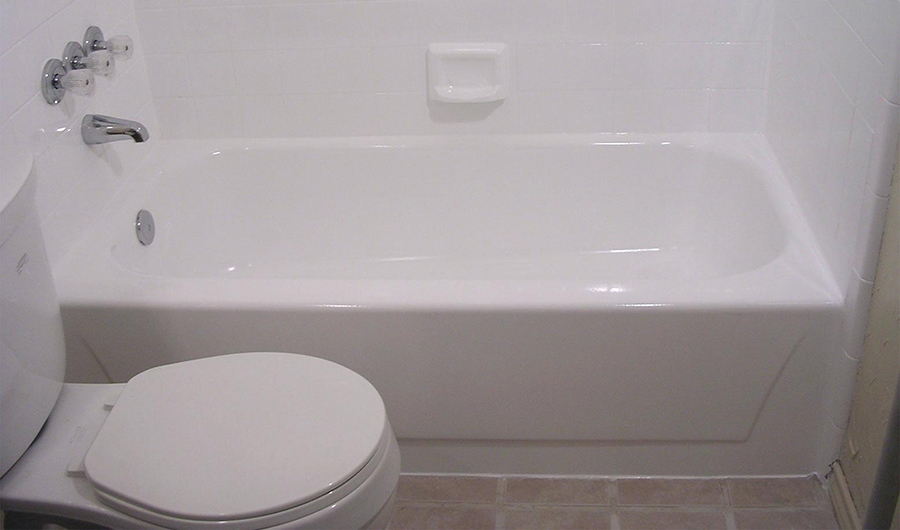 What is refinishing?
Refinishing of sanitaryware refers to the recoating of baths, shower stall bases, wall tiles and sinks. This process refreshes damaged and worn bathtubs and uses a superior coating which bonds to any surface, including acrylic, original cast iron, modern ceramics, enamel, fibreglass, cultured marble, plastic, porcelain and pressed steel.
So how does it work?
Mend A Bath International (Pty) Ltd manufactures its unique range of top-quality, specially-formulated refinishing coating products which withstand the harsh conditions in a bathroom. This untraditional renovation project need not take weeks to complete – within three hours, baths can be refinished and repaired with a durable and stain-resistant finish that looks as good as new.
Refinishing bathtubs is a quick, 'no mess, no fuss' project, and the sensible choice to give dull, scratched and old, worn bathtub finishes a complete makeover. Entire old-fashioned bathroom suites with outdated colour schemes can be transformed in a matter of hours on site, at a fraction of the price of renovating the entire bathroom suite. The process of stripping, sanding, repairing, patching and recoating is professionally carried out by skilled technicians. These technicians ensure that all persons involved are not exposed to any potential health hazards, through sufficient ventilation and covering to restrict dust and overspray. Moreover, sound environmental management practices are also adhered to at all times.
In addition, the bath remains in its fixed position. You don't need to worry about your bathtub, basin or toilet being broken out, tiles or flooring being damaged, or budgeting unnecessary additional money for expensive plumbing reconfiguration.
Why should I consider refinishing my bathtub?
Traditionally, re-enamelling and re-glazing a bathtub requires the bathtub to be baked at high temperatures which are both costly and impractical. Bathtub paint is available for DIY use from retail hardware stores and can be brushed, rolled or sprayed onto the surface. However, if a professional finish is required, it is better to call in the professionals, Mend A Bath International. Without professional spray equipment, the final appearance may reveal unhidden chips, cracks, weak spots or brush and roller marks.
Refinishing your bathtub is a cost-effective renovation solution, and the coating is available in a range of standard colours that can easily restore and revive old, discoloured and unsightly bathtubs, leaving a brilliantly buffed, glossy smoothly polished finish. Simply just by refinishing and not replacing, you can save up to 75% of replacement costs. There is also the advantage of no demolition and being able to use your bathroom within 24 hours of the refinishing project, without disruptive workmen underfoot. Refinishing bathtubs to your colour choice to match your existing décor also instantly adds value and décor also instantly adds value and aesthetic appeal to a bathroom, while saving you money at the same time.
What enhances refinished bathtubs?
For peace of mind, there are two optional extras such as the innovative Perma-Trim. This product smartly and permanently recreates and seals the trim between the bathtub's edge, and the bathtub surrounds. It also provides an aesthetic alternative to repairing damaged grouting or dirty, mildewed silicone. The second is Slip-Resist which creates special slip-resistant patterns on the bathtub's base during the refinishing process and enhances user safety. Both of these can be colour matched.
When should I refinish my bathtub?
It is recommended that a full refinishing is undertaken when the enamel coat has worn thin, its appearance is discoloured, and you can feel a series of very small holes or roughness, or you can see the original cast iron or pressed steel base through the enamel coat. Soap scum, body oils and mineral deposits all contribute to a grungy bath, and, once a bathtub has lost its shine, or you notice metal or dark areas on the old surface, it may also be time to consider refinishing.
How long does the new finish last?
Each bathtub is subject to different conditions but provided that it is well taken care of, it can remain durable and in an excellent condition, extending the life of your bathtub by more than ten to 15 years. Mend A Bath International's refinishing work holds a five-year written guarantee.
Refinishing your bathtub saves you time, money and adds value in so many ways; why not choose this option for a guaranteed restoration today?